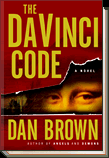 This page has links to some of the places mentioned in the Da Vinci Code by Dan Brown ,some of which are used for locations in the movie which was released on May 19, 2006 (and we saw an 11.30 am performance that day.).
Key:
DIRECTIONS ARE SHOWN IN WHITE UPPER CASE

Da Vinci Code references are shown in

blue

Other points of interest in passing are shown in orange
Tour of Da Vinci Code sites in London
In The Da Vinci Code Realizing that the clue to the cryptex might not be in France but in England, Langdon, Neveu, and Teabing board Teabing's private plane for London. In midair, the three manage to open the cryptex, but the contents, instead of revealing the secrets of the Grail, yield only another clue wrapped around yet another cryptex. Once on the ground, the threesome, hastily interpreting this latest clue, make a mad dash down Fleet Street to a Knights of the Templar fortress.
Tour of Da Vinci Code sites in London

TAKE TUBE TO TEMPLE UNDERGROUND STATION (

which is slightly out of sequence from the book)

1)

Temple Undergound (1) P 483

In the book Langdon leaps over the barriers at the station

CROSS THE PEDESTRIAN CROSSING AWAY FROM THE RIVER AND WALK NORTH (UPHILL) ALONG ARUNDEL STREET

IT MEETS STRAND NEAR THE CHURCH OF ST CLEMENT DANE

This is interesting as:

the first line in the Children's nursery rhyme "Oranges and Lemons say the bells of St Clements"

as the church of the Royal Air Force (

there are statues of 'Bomber' Harris and of Lord Dowding – who led the fighters in the Battle of Britain

one of Judy's Lilliput Lane models

TURN RIGHT INTO THE STRAND WHICH BECOMES FLEET STREET.

On the left are the Royal Courts of Justice, Britain's main civil courts, housed in a huge Gothic building which is said to have over 1000 rooms and nearly four miles of corridors. Outside, and in the middle of the road, is the Temple Bar Memorial (a bronze statue of a griffon) and this marks the entrance to the City of London. When the Queen attended the marriage of "Chuck & Di" at St Pauls, she had to stop here to ask the Lord Mayor for permission top enter the city

Fleet Street

It is also where Fleet Street begins. Once the home of any newspaper that mattered (nearly 300 newspapers, periodicals and journals were available by the end of the 18th century, and most were produced in this part of London), the 'Fourth Estate' is now scattered around the city. Many of the journalists would have been members of the Wig and Pen Club, housed in two lovely buildings at nos. 229-230 The Strand closed on November 28, 2003 but had many journalists as its customers

WALK ALONG FLEET STREET AND AFTER MIDDLE TEMPLE LANE TURN DOWN THE (SIGNPOSTED) FOOTPATH TO TEMPLE CHURCH. [IT'S OPPOSITE CHANCERY LANE] SEE MAP LATER IN THE PACK.

2 Temple Church. (2 P453-477)

In the Da Vinci Code Langdon, Sophie and Teabing follow the clue: "In London lies a knight a Pope interred," and go by Jaguar to Temple Church.

This house of worship, famed for "the Round," its rare circular nave, was built by the Knights Templar in the 12th century. The Red Knights (so called after the red crosses they wore; you can see them in effigy around the nave) held their secret initiation rites in the crypt here. Having started out poor, holy, and dedicated to the protection of pilgrims, they grew rich from showers of royal gifts, until in the 14th century they were charged with heresy, blasphemy, and sodomy, thrown into the Tower of London, and stripped of their wealth. You might suppose the church to be thickly atmospheric, but Victorian and postwar restorers have tamed its air of antique mystery. Still, it's a very fine Gothic-Romanesque church, whose chancel ("the Oblong," dating from 1240) has been accused of perfection.

The Church is generally open Wednesday - Sunday. To avoid disappointment by finding the Church closed; if you are planning a visit, you may like to contact the Verger first, Brian Nicholson, 020 7353 3470, verger@templechurch.com, to confirm current opening hours.

Temple Church website is full of interest about the history

In Da Vinci they go there because of the clue:

"In London lies a knight a Pope interred," and there are several Knights Templar to be found here.

RETURN TO FLEET STREET AND TURN LEFT ALONG TO THE STRAND

Along the Strand you'll pass by Kings College London

In The Da Vinci Code A portion of the second cryptex's message, "In London lies a knight a Pope interred," finds new meaning for Langdon with the aid of a helpful King's College librarian's computer.

3 King's College. . (3 P495 – 501 & P510 – 514)

According to Brown, "King's College houses its Department of Theology and Religious Studies adjacent to Parliament on property granted by the Crown {I don't believe it's there but this is the main Kings campus}

" The college's religion department is also the home of the Research Institute in Systematic Theology, one of the world's most advanced religious research libraries. Brown describes the research room vividly: "a dramatic octagonal chamber dominated by an enormous round table around which King Arthur and his knights might have been comfortable were it not for the presence of twelve flat-screen computer workstations."

King's College actually has several campuses on both sides of the Thames, just above Westminster Abbey and the Houses of Parliament.

The Department of Theology and Religious Studies is in the School of Humanities.


CONTINUE ALONG THE STRAND

Note The Savoy Hotel and theatre on the left. The entrance was seen in "Notting Hill" and it's where we saw "Return to the Forbidden Planet.

You can take a detour to Covent Garden by going up Southampton Street after which return to the Strand

CONTINUE ALONG THE STRAND TO TRAFALGAR SQUARE

Here you can see the pigeons, Nelson's Column, National Gallery

{As an aside with somewhere interesting for lunch or a drink}

TURN DOWN NORTHUMBERLAND AVENUE TOWARDS THE THAMES

4 Lunch at "The Sherlock Holmes"

This has lots of memorabilia about the fictional detective and is also a Lilliput Lane model

RETURN TO TRAFALGAR SQUARE AND TAKE WALK ALONG WHITEHALL ON THE NORTH SIDE (WITH THE WHITEHALL THEATRE). AT HORSE GUARDS TURN RIGHT AND GO THROUGH THE ARCH TO HORSEGUARDS PARADE

The archway is the one seen at the funeral of Princess Di when Prince Philip, Charles, William, Harry and Di's brother walked behind the carriage

5 Horse Guards Parade. (5 PP??) .

This square, on Horse Guards Road, at the east end of St. James's Park, is a fine place for mayhem. It was once the tiltyard of nearby Whitehall Palace, where jousting tournaments were held. The vast square is now notable mainly for the annual Trooping of the Colour ceremony. From Horse Guards Parade, one gets an untrammeled view of Saint James's Park, to which it's adjoined.

C

ROSS THE ROAD TO ST JAMES PARK

6 Saint James's Park. (6 P504) see the Pelicans ? and distant view of Buckingham Palace

In The Da Vinci Code A character besotted with the Holy Grail has followed the trio to London, planning to usurp control of the secrets Langdon and Neveu continue to discover. Before he makes his move, though, he slips into St. James's Park to deal with an accomplice who has misbehaved.

Three palaces border this gloriously green park: the ancient Palace of Westminster, now the Houses of Parliament; the Tudor St. James's Palace; and Buckingham Palace. Acclaimed as the most royal of the royal parks, Saint James's Park is also London's smallest, most ornamental park, as well as the oldest; it was acquired by Henry VIII in 1532 for a deer park. Henry VIII built the palace next to the park, which was used for hunting only (dueling and sword fights were forbidden). James I improved the land and installed an aviary and zoo, and Charles II laid out formal gardens. St. James's Park makes a spectacular frame for the towers of Westminster and Victoria -- especially at night, when the illuminated fountains play and the skyline beyond the trees looks like a floating fairyland.


WALK FROM THE PARK TO BIRDCAGE WALK WITH THE INSTITUTION OF MECHANICAL ENGINEERS AND THEN LEFT TOWARDS PARLIAMENT SQUARE

You'll pass the War Cabinet Rooms.

In Parliament Square note Houses of Parliament, St Stephens Tower (Big Ben is the bell inside)

At end of Westminster Bridge is the statue of Queen Buddicca on her chariot (as in Exning village sign)

Across the bridge is the old GLC building which houses the aquarium (normal opening hours are from 10am - 6pm, with the last admission at 5pm, seven days a week.)

ON THE SOUTH EAST CORNER OF PARLIAMENT SQUARE IS WESTMINSTER ABBEY

Key Da Vinci places here are:

Sources:

TO GET TO REMAINING LONDON SITE (Opus Dei HQ) YOU NEED TO GO BY BUS

(please check for latest information on the Transport for London website journey planner)

FROM WESTMINSTER ABBEY BUS STOP T Take the Bus 148 (towards Rockley Rd Shepherd's Bush Grn) TO QUEENSWAY TUBE STATION. {Takes about 33 mins -- buy ticket before boarding}. CROSS ROAD TO LOOK FOR ORME COURT. OPUS DEI HQ IS Nos # 5 & 6.

Opus Dei has published it's response to the Da Vinci Code.
Also mentioned is "The Hung Drawn & Quartered" pub which is near the Tower of London.

OTHER DA VINCI CODE SITES ON THIS WEB SITE

PARIS: LOUVRE

Lilliput Lane has released an ornament based on Rosslyn Chapel